We create inspiring and engaging learning environments that respond to advances in technology and new teaching methods, whilst providing flexibility for future generations of educators and pupils.
The Irish education sector is rapidly evolving and our team brings in depth understanding of the challenges inherent in all types of education environment, helping to create dynamic, flexible learning spaces and facilities.
From primary and secondary schools with sports and social facilities to higher education colleges and universities with state of the art research facilities, we understand that early engagement with key stakeholders, including teaching staff, students and facility managers, is vital to delivering solutions which respond directly to their specific needs.
Our multidiscipline expertise and experience encompass the design, expansion and enhancement of all types of education facility. Our portfolio includes schools, colleges, universities, research and development facilities, science laboratories, student residences, as well as community amenities such as performing arts spaces, sports facilities, training centres and libraries.
Find an Expert
Click search below to find our closest match.
Featured Project
Dundalk Grammar School
Waterman Moylan was appointed to act as consulting civil and structural engineers in relation to the extension and refurbishment to Dundalk Grammar School in Dublin. The school is listed as a protected structure.
The work comprised the demolition of some of the existing buildings, the refurbishment of the remaining buildings, further to the construction of a new two-storey classroom block and a stand-alone multi-purpose hall.
A steel frame structure with precast concrete floors has been adopted for the classroom building to optimise future flexibility of configuration of the teaching space. The multi-purpose hall structure is also a steel frame, with masonry infill walls which support the roof's pressed metal purlins. The sub-structures comprise of concrete pad and strip footings.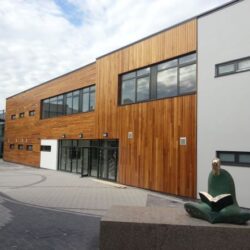 You may also like…