Waterman Moylan provides a comprehensive range of health and safety and Project Supervisor Design Process (PSDP) services to the construction industry.
Occupational health and safety is an increasingly complex and demanding area for both employers and clients. We offer advice and assistance covering construction schemes and general health and safety, helping clients deal with continual regulatory changes and keeping staff, projects and businesses compliant.
We've acted as PSDP on a huge range of projects since the implementation of the Safety, Health and Welfare at Work (Construction) Regulations 2006, ranging from small refurbishment and maintenance works to multi-million-euro projects. Prior to the introduction of the 2006 Regulations, we fulfilled the PSDS role on numerous projects.
An effective PSDP requires expert knowledge of the complete construction cycle from design through to construction and operation, together with a detailed understanding of health and safety legislation and best practice.
Find an Expert
Click search below to find our closest match.
Featured Project
College Square
This major transformation at College Square unites two development sites as part of a combined regeneration in the heart of the city centre with the River Liffey approximately 140 m to the north and Trinity College immediately to the south. Marlet Property Group acquired the College House site in 2016 and subsequently added the Apollo House site in 2018.
The dated, 1970's era 10-storey offices on the sites were demolished in 2019, clearing the way for redevelopment to proceed. Award-winning architects Henry J Lyons and MOLA Architecture had originally designed two separate new 10-storey office buildings for the sites, but on amalgamating the plots, Marlet Property Group commissioned a redesign to create a single linked commercial scheme to an exceptionally high standard targeting LEED Platinum, providing 420,000 sq ft of Grade A office space and 21,000 sq ft of commercial ground floor areas. Waterman Moylan are providing all civil and structural engineering design services for Marlet Property Group.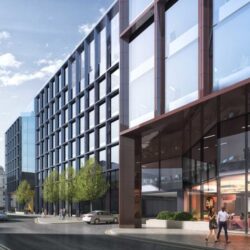 You may also like…