Government and Public Buildings
Accessible and efficient public services are vital to building a sustainable future.
As the demand for public services increases, we face the challenge of meeting the needs of local communities within an affordable budget, whilst supporting Ireland's journey to net zero.
We have a track record of collaborative working with clients in the public sector, including local and central government, the emergency services and education providers. Within each project, we have worked in partnership to provide value for money services to local communities. Our trusted teams have formed strong working partnerships with our clients, using effective communication to ensure that our client's needs are met.
Our multidiscipline team of engineers and scientists provides full assessments and feasibility studies before using the results of those to design and develop thought out, fully costed plans. Our environmental, civil, building, structural and transportation consultants work together to create a whole picture, exploring all angles so that both present and future needs can be anticipated.
Find an Expert
Click search below to find our closest match.
Featured Project
The Garage Theatre
In existence since 1993, The Garage Theatre obtained a new home in 2013 with the completion of this stunning new community theatre building.
The Garage Theatre was formed as a joint venture between Monaghan Vocational Education Committee and Monaghan Dramatic Society. As part of the new Monaghan Education Campus developed between 2010 and 2012, the current modern home for the theatre was designed and delivered.
The theatre is a 1,940 sqm two-storey over basement facility incorporating a 300-seat auditorium with ten wheelchair spaces. Seating is retractable, providing a completely flexible space. The Theatre also includes a 75-seat studio space with sprung floor, a visual art studio and gallery, three large dressing rooms, administrative offices, a bar and café and a generous, double height public foyer and reception. 300 car parking spaces are also provided for use by patrons of the facility.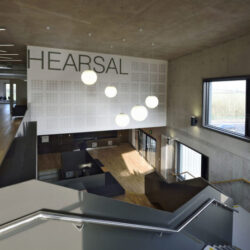 You may also like…