Structural engineering continues to be a significant area of Waterman Moylan's involvement in the built environment, as it has been since the company was established over forty years ago.
Our expertise and experience in this area, together with our commitment to the advancement of computer-aided and 3D design and construction techniques, has seen us become a highly regarded and dependable structural engineering consultant.
Relationships within our industry are fundamental to our continuing success, and we approach all projects – small and large – with the same commitment to quality and performance. Each project has unique requirements relating to its design, sustainability and cost. By working closely with clients and other design and construction professionals, we build long lasting relationships and deliver exemplary results.
Find an Expert
Click search below to find our closest match.
Featured Project
Capital Dock is strategically located in the heart of Dublin's south docklands on one of the largest previously undeveloped waterfront sites in the Irish capital.
Completed in 2018, the development delivers 60,000 sqm of mixed-use contemporary office, residential and retail units on a 4.8-acre site, offering a world-class visionary campus.
The unique urban quarter's stunning views of the River Liffey and Grand Canal Dock are home to 35,000 sqm of office space and 190 high quality multi-family homes, including a 23-storey residential tower which is the tallest in Dublin. The planned Dodder Bridge, to be delivered by Dublin City Council, will considerably enhance transport links to the Capital Dock site, strengthening the development as one of the most accessible sites of the city. Elsewhere, the Port Tunnel will provide access to Dublin Airport, the M50 peripheral motorway and main suburbs of the capital on both sides of the Liffey.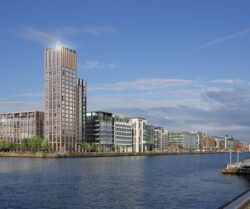 You may also like…