Waterman Moylan offers a full range of services across the civil engineering, transport and development planning, and infrastructure design fields.
Our goal is to support the sustainable development and economic growth of the communities in which we work by offering clients advice and solutions that are deliverable, innovative and environmentally sound.
With a client base drawn from across the public and private sectors, we have the financial and technical resources to undertake everything from the largest and most complex civil engineering schemes through to smaller scale community projects.
Our reputation has been built on the delivery of complex projects within the transportation and development infrastructure markets. By their nature, these markets require expert skills which span a wide range of related disciplines including bridges, highways, rail, environmental, geotechnical, marine and structural engineering, hydrology, transport planning and project management. Our people's expertise covers all these disciplines, and our multidisciplinary teams work collaboratively to deliver successful projects.
Find an Expert
Click search below to find our closest match.
Featured Project
Clongriffin Town Centre
The new town development will include over 3,000 residential units, 80,000m2 of office and retail space, leisure facilities, healthcare facilities and a nursing home, schools, a new railway station, public transport interchange and 1,200 space basement car park when complete.
Our Waterman Moylan team are providing civil, structural and building services consultancy work in addition to being responsible for the design of all new roads, drainage, water distribution networks and other civil infrastructure for this large-scale development.
Planning permission was first obtained in 2003 with construction of the first phase of the scheme being completed in 2006. Further work included a Town Centre which was finalised in 2008, followed by the new Clongriffin DART railway station and over 1,000 residential units in 2010.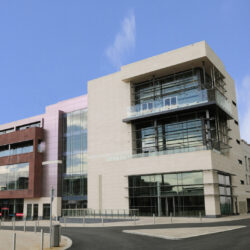 You may also like…