Our agile design solutions deliver healthcare environments using best practice, meeting the stringent and complex requirements of the clinical field to create sustainable, patient focused spaces that support healing.
We offer a local service with global experience, drawing on a wealth of knowledge and expertise encompassing all types of healthcare facilities, including specialist children's hospitals, advanced operating theatres, GP and therapy clinics, medical training facilities, private medical facilities, mother and baby units, cancer treatment facilities, life science facilities, rehabilitation and wellness centres, transitional care, elderly care homes and more.
Our extensive healthcare portfolio reflects our proven ability to design and develop some of the most advanced facilities across Ireland and internationally. Our multidisciplinary approach blends the specialist experience and expertise of our diverse team, providing holistic design solutions for our clients.
Find an Expert
Click search below to find our closest match.
Featured Project
St Patrick's Hospital
Waterman Moylan was appointed to provide advice on upgrading and improvement works to existing buildings in this 200-year-old psychiatric hospital, and was subsequently commissioned to act in connection with a new high-security ward for St Patrick's Hospital.
The single-storey new wing is designed to maximise natural light penetration into all areas of the building. This has been achieved by means of a complex multi-pitch roof shape, which permits the use of extensive glazed panels and curtain walls. A steel frame was adopted to provide the flexibility required to create the roof.
The building also features old structural timber beams which have been recovered from roof trusses in a section of the old hospital which was demolished. These timbers have been incorporated into the structural frame and left exposed as a feature.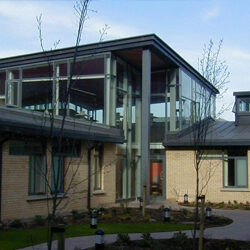 You may also like…