Our expertise and experience covers all types of commercial developments,
from challenging refurbishment and retrofit schemes that revive existing buildings for future working generations, to new build developments where sustainable, future proof designs deliver flexible workspaces ready to fulfil the latest multi-occupier requirements.
The commercial office market continues to rapidly evolve, and our progressive thinking builds in quality derived solutions to keep projects at the forefront of technological and market driven demands.
Our designs consider new working cultures and the latest technologies to accommodate a variety of occupiers, from start-ups and collaborative workspaces to technology driven finance and media sectors.
Find an Expert
Click search below to find our closest match.
Featured Project
Capital Dock is strategically located in the heart of Dublin's south docklands on one of the largest previously undeveloped waterfront sites in the Irish capital.
Completed in 2018, the development delivers 60,000 sq m of mixed-use contemporary office, residential and retail units on a 4.8-acre site, offering a world-class visionary campus.
The unique urban quarter's stunning views of the River Liffey and Grand Canal Dock are home to 35,000 sq m of office space and 190 high quality multi-family homes, including a 23-storey residential tower which is the tallest in Dublin. The planned Dodder Bridge, to be delivered by Dublin City Council, will considerably enhance transport links to the Capital Dock site, strengthening the development as one of the most accessible sites of the city. Elsewhere, the Port Tunnel will provide access to Dublin Airport, the M50 peripheral motorway and main suburbs of the capital on both sides of the Liffey.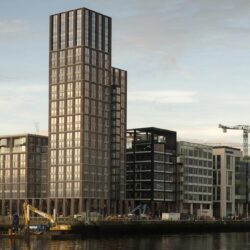 You may also like…