Acquisition and Appraisal
Acquisition and Appraisal
The ability to accurately assess the true value of any acquisition or asset is pivotal in the decision making process of any scheme.
As your partner, we support you with technical advice across all engineering disciplines to inform development appraisals, regeneration strategies and asset repositioning.
With experience crossing all sectors of the built environment, from Green/brownfield sites to city centre development sites and major urban regeneration, our technical guidance and consultancy services provide you with robust feasibility and viability assessments to help unlock development sites and add value.
Our expertise spans from Transport, Civil Engineering, Geotechnical and Environmental Consultancy through to Structures and Building Services. We offer highly experienced advice at pace, fully engaging with your team to explore every option. We have embedded holistic sustainability and social impact into the core of our services and will support your Environmental and Social Governance aims and performance targets in response to climate change.
Find an Expert
Click search below to find our closest match.
Project Lifecycle Support
Key Services
Acoustics, Noise and Vibration.
Contaminated Land Advice.
Air Quality, Dust and Odour.
Flood Risk Assessment.
Sustainable Urban Drainage (SUDs).
Archaeology and Built Heritage.
Landscape planning and design.
Waste advice, permit and planning.
Environmental Impact Assessment (EIA).
Ecology.
Corporate and Property Due Diligence.
Transport Modelling.
Sustainable Transport and Travel Plan advice.
Bridge Design.
Highways.
Rail Engineering.
Health & Safety / Principal Designer.
Utilities and Infrastructure advice.
Geotechnical studies / investigations.
Structural advice / surveys and due diligence reports.
Building Services advice / surveys and due diligence reports.
Public Health advice / surveys and due diligence reports.
Smart Technology.
Vertical Transport.
Energy strategies and renewables advice.
Embodied Carbon studies, Operational Carbon and Whole.
Life Carbon, advice.
Circular economy and material passports.
Climate Resilience.
Sustainability Statements.
Energy Performance Certificates and NABERS Assessments.
BREEAM and WELL.
Featured Project
The Fonthill Industrial Estate is located adjacent to the Liffey Valley Shopping Centre in West Dublin and contains a mix of retail and distribution warehousing.
We were appointed to provide engineering consultancy in connection with a number of buildings within the estate.
Our Waterman Moylan team was responsible for civil and structural engineering for a major cold store distribution centre for Glanbia which comprises a multibay steel truss frame warehouse, two storey offices, and extensive truck loading bays and marshalling yards.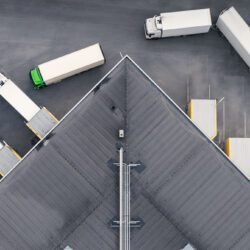 You may also like…