Our multidiscipline team harness their cross-sector expertise to design vibrant and innovative environments, creating sustainable, flexible places that respond to the needs of those who live, work and play in them.
We believe in creating inclusive people-centric destinations where communities and businesses can collaborate and embrace new ways of working and living, whilst positively impacting the physical and social environments we deliver.
We strive to deliver highly successful, climate-resilient solutions for our projects. Our expertise covers all types of projects encompassing retail, residential and commercial functions, from challenging refurbishment schemes through to major new – build urban regeneration developments. Mixed-use projects require a holistic, highly collaborative approach, underpinned by expert input and we deliver connected environments which respond to the differing sector demands.
Our team has a proven track record of planning and designing for a wide range of uses and functions, often with complex infrastructure requirements, and we have developed a strong understanding of specific and specialised needs.
Find an Expert
Click search below to find our closest match.
Featured Project
Kennedy Road, Civic Square
The conversion of an informal public parking area serving over 50 retail and commercial businesses in the centre of Navan.
The development fronted directly into a high-quality public space providing formal parking, delivery areas, pedestrianisation, landscaping and public lighting while maintaining access to the existing businesses.
Waterman Moylan was responsible for liaison with the businesses, setting constraints for phasing the works and coordination of utilities diversions. Our on-site coordinator was singled out for special praise by Navan Town Council at the formal opening ceremony in June 2008.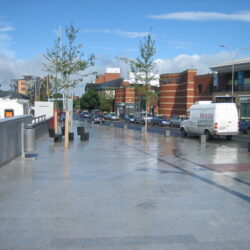 You may also like…