We are highly experienced in the development and design of some of the most functionally demanding buildings in the scientific research, industrial, logistics, distribution and manufacturing sectors.
Our extensive portfolio includes state of the art manufacturing units, research facilities, laboratories, datacentres and logistics hubs. We deliver bespoke and adaptable design solutions across all engineering and environmental consultancy disciplines.
We focus on minimising the environmental impact of developments, whilst meeting all project demands through the delivery of efficient, highly sustainable solutions. Our schemes strive to incorporate efficient modern methods of construction such as Design for Manufacture and Assembly (DfMA). Internal environmental control is often critical, and our experts tailor their designs to suit the lighting, power, water, humidity control, ventilation and cooling requirements of each facility.
Find an Expert
Click search below to find our closest match.
Featured Project
The Fonthill Industrial Estate is located adjacent to the Liffey Valley Shopping Centre in west Dublin and contains a mix of retail and distribution warehousing.
Waterman Moylan was appointed to provide engineering consultancy in connection with a number of buildings within the estate.
Our team was responsible for civil and structural engineering for a major cold store distribution centre for Glanbia which comprises a multi-bay steel truss frame warehouse, two-storey offices, and extensive truck loading bays and marshalling yards.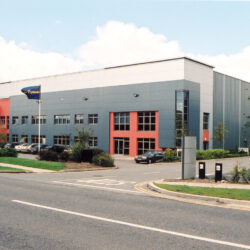 You may also like…