Our maritime experts are proud to support a host of exciting schemes across Ireland and internationally, where we're helping to shape port and harbour infrastructure, marine and coastal facilities from feasibility and planning through to design and construction.
The marine sector is a key driver of local and global economic growth. The importance of water-borne transport, along with continued investment in commercial and residential waterside developments, requires innovate design solutions that build long term climate resilience.
Our extensive portfolio comprises a range of construction and regeneration projects, including ferry terminals and port infrastructure, dockland regeneration, marinas, quay and riverside walls.
Find an Expert
Click search below to find our closest match.
Featured Project
Dun Laoghaire Cruise Berth
Berth 4, Dun Laoghaire Harbour is the refurbishment of an existing disused ro-ro ferry berth (Berth 4) at St. Michael's Pier in Dun Laoghaire Harbour. The disused Berth 4 was to be upgraded to accommodate the Stena Lynx III ferry.
Waterman Moylan was appointed to plan and manage the refurbishment. A mechanically controlled steel transition ramp spans from a berthing pontoon to the pier. The ramp was badly corroded, and the mechanics were no longer functioning.
Refurbishment works included site applied corrosion protection system to steel frame and tailgate, upgrade /replacement of the ramp and ramp control mechanics and also the refurbishment of the control building.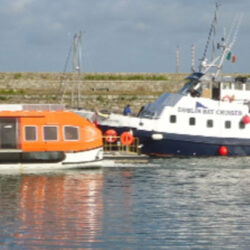 You may also like…