Conservation and Historic
Our experts support conservation and historic schemes of all types and scales.
We are proud of Ireland's unique culture and heritage, and that's why our multidiscipline team harness their collective expertise to develop sensitive design solutions which help ensure the longevity of our nation's historic assets.
From advising on repairs to significant monuments through to developing designs for the sympathetic renovation of historic buildings with retained facades, our specialists provide timely, cost-effective and practical solutions which are helping to extend the life of some of Ireland's most important buildings.
Find an Expert
Click search below to find our closest match.
Featured Project
O'Connell Street General Post Office
The original General Post Office was completed in 1817 and is the last of the great Georgian buildings erected in Dublin.
The main building structure is in granite while the fine portico is constructed of Portland stone.
Waterman Moylan was commissioned to provide conservation and restoration engineering services for the entire front façade of the building including the portico.
The façade of the building had suffered significant deterioration due to a combination of environmental conditions and due to the corrosion and expansion of ferrous clamps and ties used in the original construction. The expansion caused extensive cracking and spalling of the stonework particularly at the higher levels of the façade. The Portland stone flat arch at the side of the portico was badly affected and major structural repair and restoration works had to be undertaken in this area.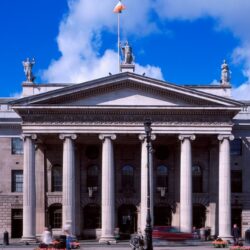 You may also like…