Net Zero Sustainability Services
Our team of sustainability experts are highly experienced in providing overarching sustainability support to clients to reduce the carbon footprint of their projects. Our service is founded on our holistic approach which means we consider sustainability across all aspects of the built environment.
The ability to provide a cross-discipline assessment is crucial to achieve true results on your path to net zero, and our cross-sector experience spans all scales of project, from major master planning to an individual asset.
Developing sustainability strategies and frameworks for projects, we identify core themes such as wellbeing, biodiversity, ethical supply chains and water efficiency, and establish targets to ensure these aspects are fully considered, integrated and monitored through to project completion. Sustainability is at the heart of our design approach.
Key Services
BREEAM and BREEAM AP.
BREEAM technical reports.
Carbon offset.
Carbon pollution and Waste.
Circular economy and material passports.
Climate Resilience and Passive Design advice.
Energy Performance Certificates and NABERS Assessments.
Energy statements, strategies, and renewables advice.
Environmental Product Declaration (EPD) advice.
ESG advice.
Ethical supply chain advice.
Governance and ethics.
Natural resources and input materials.
Net Zero Strategy advice.
Operational Carbon and Whole – Life Carbon, advice.
Operational Energy modelling.
Overheating analysis.
Reduced material use/wastage and DfMA / MMC.
Sustainability frameworks and supply chain support.
Sustainability Statements.
Sustainable Technologies advice.
WELL advice.
Net Zero Sustainability Services
Based in Dublin and supported by Waterman Group, our team of Net Zero and Sustainability experts is delivering leading-edge specialist support for a huge range of schemes across every sector.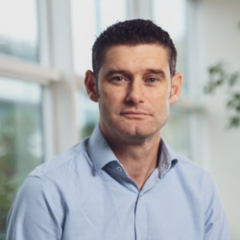 Niall Coughlan
Director Building
Services