Waterman Moylan provides mechanical, electrical and public health design solutions for the built environment through our Building Services division.
We design systems which result in environmentally sustainable and energy efficient buildings with minimum operating costs and optimum performance and reliability, whilst meeting the needs of building users.
With the aim of optimising whole life performance, our approach centres on providing highly sustainable building-wide design solutions. We work in partnership with architects, structural engineers, quantity surveyors and other construction professionals to deliver exemplary results.
From higher standards of comfort and safety, to concerns for the environment and the need for more efficient use of energy; modern building design must respond to increasingly complex parameters. That's why our services are tailored to support the delivery of future-proofed, highly adaptable, low-environmental-impact spaces.
Find an Expert
Click search below to find our closest match.
Featured Project
The Garage Theatre In existence since 1993, the Garage Theatre obtained a new home in 2013 with the completion of this stunning new community theatre building.
The Garage Theatre was formed as a joint venture between Monaghan Vocational Education Committee and Monaghan Dramatic Society. As part of the new Monaghan Education Campus developed between 2010 and 2012, the current modern home for the theatre was designed and delivered.
The theatre is a 1,940 sqm two-storey over basement facility incorporating a 300-seat auditorium with ten wheelchair spaces. Seating is retractable, providing a completely flexible space. The Theatre also includes a 75-seat studio space with sprung floor, a visual art studio and gallery, three large dressing rooms, administrative offices, a bar and café and a generous, double height public foyer and reception. 300 car parking spaces are also provided for use by patrons of the facility.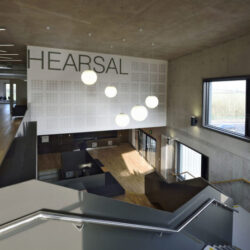 You may also like…