Block H is an eight-storey office building over three-levels of basement car parking, providing 15,200 sq m of Grade A office space in one of the most prestigious business parks in Dublin.
One of Dublin's most successful suburban developments, Central Park comprises commercial and residential real estate assets located in the Dublin suburb of Leopardstown. Existing occupants include blue chip companies such as Vodafone, Bank of America Merrill Lynch, Sage, VW Bank, Ulster Bank and Tullow Oil located at the campus.
The Central Park Office Park was acquired by Green Property in 2014, and since then, it has advanced plans for further expansion of the campus. The first element of this expansion is Block H which provides 147,000 sq ft of high-quality commercial space over eight floors and 384 car parking spaces in three-levels of basement parking.
Waterman Moylan was appointed to provide civil, structural and transportation services to Green Property for the development. The scheme already had a planning consent when Green acquired Central Park, so the initial brief was to develop a series of structural options that could be costed, to enable the identification of the most cost-effective overall building solution for the project.
Our specialists used advanced modelling software to design the reinforced concrete frame of the building in line with Eurocode 2 rules. This SCIA analysis and design software links seamlessly with the Revit 3-D modelling and drawing production software, permitting rapid assessment of alternatives and resulting in an optimised final design. Waterman Moylan's building model has been used by the project team to aid with scheduling for construction, and also as an aid to lighting design by the specialist lighting consultants.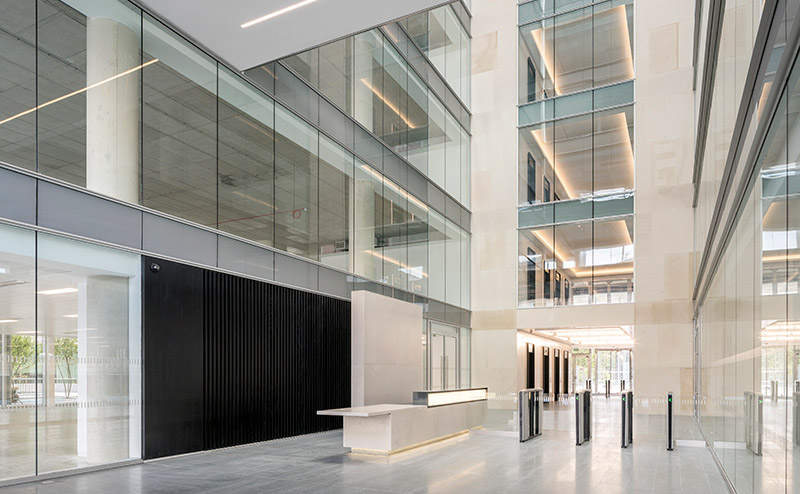 The building has been designed to achieve a LEED Gold accreditation from the US Green Building Council. The LEED accreditation system has been gaining popularity in Ireland in the last two years with developers seemingly keen to design to this standard rather than BREEAM in order to attract blue-chip American companies.
Our Building Services team acted as the LEED Commissioning agent on the project. In this role we act as Client representatives to provide independent oversight of the mechanical and electrical building services design in order to ensure the Client brief is being met and to review how easily the system can be commissioned. Once on site the LEED Commissioning Agent implements a commissioning plan and monitors the testing, balancing and handover processes on behalf of the client.
Client: Green REIT Plc
Architect: HJ Lyons