Consulting Engineers
and Environmental Scientists
Consulting Engineers
and Environmental Scientists
Waterman Moylan is a leading engineering and environmental consultancy providing specialist services to our clients in Ireland's property, infrastructure and environment markets.
Based in Dublin, our expertise covers civil, structural, transportation, mechanical and electrical engineering as well as sustainability and construction related health and safety consultancy.
We take great pride in our longstanding relationships with government agencies, local authorities and private sector clients. We strive to provide innovative, sustainable and economic solutions that convert our clients' vision into reality on every project we undertake, no matter how large or small the challenge.
We work throughout the complete lifecycle of the asset, starting from initial surveys and concept planning, through to design, delivery, project management, supervision and ongoing maintenance.
Find an Expert
Click search below to find our closest match.
Featured Project
Capital Dock is strategically located in the heart of Dublin's south docklands on one of the largest previously undeveloped waterfront sites in the Irish capital.
Completed in 2018, the development delivers 60,000 sqm of mixed-use contemporary office, residential and retail units on a 4.8-acre site, offering a world-class visionary campus.
The unique urban quarter's stunning views of the River Liffey and Grand Canal Dock are home to 35,000 sq m of office space and 190 high quality multi-family homes, including a 23-storey residential tower which is the tallest in Dublin. The planned Dodder Bridge, to be delivered by Dublin City Council, will considerably enhance transport links to the Capital Dock site, strengthening the development as one of the most accessible sites of the city. Elsewhere, the Port Tunnel will provide access to Dublin Airport, the M50 peripheral motorway and main suburbs of the capital on both sides of the Liffey.
We were delighted to support Kennedy Wilson on this scheme, with our team providing civil and structural engineering services and construction-related health and safety advisory input for the project, assisting in the creation of a new vision in Dublin's thriving central business district.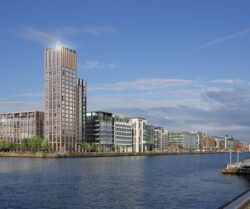 Cadenza scoops two Irish Construction Excellence awards!
Cadenza, a best-in-class office building in the heart of Dublin, was announced as a winner at the 2023 Irish Construction Excellence (ICE) Awards. Widely acknowledged as the premier recognition of performance in Ireland's construction industry, the ICE awards were established to showcase and reward best practice across a wide range of disciplines and project categories.
Located on Earlsfort Terrace, the 16,583 sqm Cadenza office development took home the 'Commercial (€10m to €60m)' award as well as the Judges Silver Award. This incredible scheme comprises a six-storey building punctuated by a unique façade, all set above a lower ground floor and basement level. With sustainability central to the design, the project targeted LEED Platinum certification, and includes a deep stone veil and stone fins to the street frontages to create shading, also incorporating a green wall with deep recessed glazing to its rear façade.